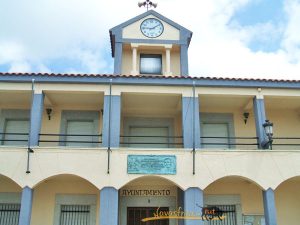 After the scramble for the adoption of the ordinance the City Council decided Navasfrías in a plenary session on Wednesday 22 January repeal Ordinance Regulating the Citizen Security and Coexistence being prepared and had intended to regulate various aspects of city living (as the distribution of advertising, cuestiones relativas al ruido, o la prohibición de llevar animales sueltos), pero que había suscitado polémica.
Así, Izquierda Unida había llegado a calificar el texto de "antisocial" por algunas de las normas que recogía, como la prohibición del reparto de publicidad y la colocación de elementos publicitarios, "Undifferentiated one that has a commercial character which responds to exercise fundamental rights".
Asimismo, se planteaban sanciones de hasta 500€ por "cerrar las puertas o ventanas de forma estrepitosa" o por "hablar en voz alta" en las casas a ciertas horas.
Ante esas medidas, IU presentó en el período de información pública una batería de alegaciones que en teoría deberían haber sido tratadas en el Pleno del citado día 22. However, no se llegaron a tratar ya que "para sorpresa y regocijo" de IU, lo que se votó finalmente fue la derogación de la Ordenanza y no su aprobación definitiva.
Desde el punto de vista de Izquierda Unida (que considera que el texto habría salido adelante de no haber analizado ellos el texto), la Ordenanza "no podía acabar de otra forma, pues era infumable".
A partir de ahora, lo que propone IU es que el alcalde de Navasfrías, Celso Ramos, inicie un proceso participativo para recoger propuestas de los vecinos, proponiendo un debate público, que permita poner en marcha "una ordenanza adecuada a esa localidad para resolver los problemas que se detecten".
Aunque IU no tiene representación en el Salón de Plenos del Ayuntamiento de Navasfrías, "ofrece su mano" para, según explican, "hacer aportaciones en tono positivo y sentarnos a analizar un posible texto que pueda generar consenso y suponga la resolución de los problemas que el alcalde haya detectado".
Source: http://ciudadrodrigoaldia.es/