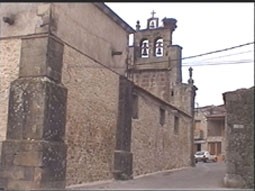 Our neighbor Jose Moreiro has shared a video which is the product of a montage from 5 photographs published in 1981, by PAISAJES ESPAÑOLES S.A.
The images, once digitized, the rest of aerial images of Navasfrías have been mounted.
Our town since that date has changed, there are more houses but unfortunately now we are less neighbors. And you, where were you that year?
Now a little bit of history from that time, in the years before 1981 Navasfrías was one of the areas with the greatest mining exploitation.
We hope you like it.
---
Navasfrías mining exploitation
During the peak years of mining activity (1930-1950) There is no more information than that contained in the work plans of the Provincial Mining Directorate.
The high prices of Sn and W boosted mining activity in the area, although in an artisan way, focusing on the washing of the placers and alluvium of the rivers and on the superficial emptying of the most mineral-rich seams. The fall in prices that followed the post-war period forced the closure of most of the farms, staying
only the most important ones open.
As is the case with the Salmantina mine until the years 60. This and other mines in the Navasfrías area were reopened over the years 70 after prospecting studies carried out by IGME-CGS (1976) within the Plan
National Supply of Non-Energy Raw Materials, and by ENADIMSA (1982) about the Carlos Concession, and due to an increase in the prices of Sn, but its activity ceased definitively in 1983.
---
If you want to see photos of the minas
We encourage you to share with all of us stories from those dates so that they are not forgotten.. Thank you all for following us.
---