The Museum of Art Nouveau and Art Deco of the Lis Salamanca House also advocates for culture in times of crisis and in 2011 already decided to establish a special rate for unemployed, with entries to a euro. As reported by the head of communications center, Alejandra Martin, además hay precios reducidos en un 50 por ciento de la entrada habitual, que es de cuatro euros, para jubilados, estudiantes y grupos de más de diez personas, por lo que pagan dos euros.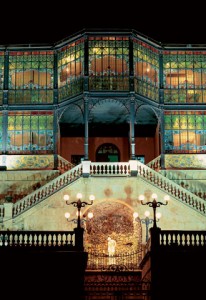 En este sentido, detalla que se mantuvo la gratuidad para niños menores de 14 años; residentes en Navasfrías -por ser el lugar de origen del coleccionista que donó los fondos para la creación de este Museo, Manuel Ramos Andrade-, y los jueves por la mañana también se puede visitar sin coste alguno.
Conscientes de la difícil situación económica, el centro adoptó esta medida de la que el año pasado se beneficiaron 28.000 people, de los 119.800 visitantes que se registraron en ese periodo. Specifically, más de 10.200 visitantes accedieron al Museo durante el año 2011 en grupo, de modo que abonaron la mitad de la entrada ordinaria. Lo mismo sucedió con más de 9.000 estudiantes y casi 8.400 jubilados, quienes también se beneficiaron del precio reducido para visitar la Casa Lis. Por su parte, casi 300 desempleados se acogieron a la tarifa especial, de modo que abonaron tan sólo un euro. Also, casi 5.600 niños, más de 1.200 residentes de la localidad de Navasfrías y más de 18.700 visitantes que acudieron al Museo los jueves por la mañana lo hicieron de modo totalmente gratuito.
Martín recalca que el Museo Art Nouveau y Art Déco no subió sus entradas, de modo que puede contemplarse su exposición permanente al mismo precio que el año pasado.