Hundreds of residents of Ciudad Rodrigo were up early today to lift the picturesque bullring at the Plaza Mayor of Salamanca town this, that host festivals, novilladas, between bulls and bullfights 17 and 21 February con motivo del Carnaval del Toro.
And total, Bullring, with rectangular, está dividida en 47 tablados o 'tablaos', nombre popular con el que se reparten las peñaslos diferentes graderíos que ellos mismos construyen a base de martillazos de la colocación de tablones, supervisados por el arquitecto municipal.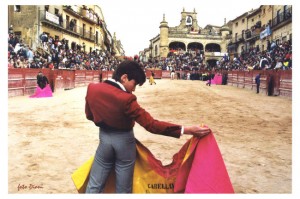 Y todo para soportar durante el carnal a 3.800 almas que se hacen un hueco para ver a algunos de los toros del Carnaval de Ciudad Rodrigo.
Como cada año, los tablados son subastados públicamente en el Salón de Plenos del Ayuntamiento, con precios que oscilan entre los 250 y los 7.000 euros.
El mayor de los problemas, sobre todo para los turistas, es hacerse con un hueco en alguno de los tablados, ya que se cuentan por miles los aficionados que acuden cada año para contemplar los festejos taurinos populares de Ciudad Rodrigo, donde la práctica de construir la plaza a base de tablones se remonta al siglo XIV.
El único percance que se recuerda "ocurrió en 1985, cuando se vino abajo uno de los tablados durante el festival del Sábado de Carnaval, con la fortuna que no le sucedió nada a nadie", según ha recordado hoy a EFE el entonces alcalde de Ciudad Rodrigo, Miguel Cid Cebrián.
La plaza mirobrigense acogerá su primer festival el Sábado de Carnaval, 18 February, donde se medirán a novillos de la ganadería salmantina de Montalvo los diestros Diego Urdiales, Salvador Cortés y David Mora y el novillero Alberto Durán.
The Martes de Carnaval harán lo propio, con bravos de Garcigrande (Salamanca), los toreros Leandro, Iván Fandiño y Juan del Álamo, acompañados del novillero Juan Ortega.
Los carteles del Carnaval del Toro se completarán con sendas novilladas the 19 and 20 February .