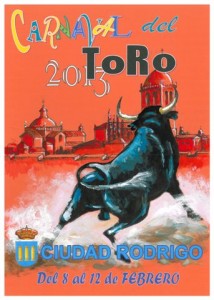 Un mes, twenty-nine days, are for the start of the popular bullfights Carnival del Toro 2013 Ciudad Rodrigo and the path of the running and desencierros began to take shape with the placement of the first "needles".
The staff of the municipal delegation of Works, Marcelino presiding Lamb, comenzó la colocación de los vallados que desde "La Puentecilla", en el inicio de la carretera de Sanjuanejo, hasta la Plaza Mayor, pasando por la avenida de Foxá, el paseo de las Madroñeras, San Pelayo, el "Árbol Gordo", el "Registro" y la calle Madrid, impiden la desbandada de los astados que participarán en los cinco encierros del Carnaval, el primero de ellos, el del Viernes, tan sólo de mansos, de cabestros, para enseñarles el recorrido.
Añadir que finalmente el empresario adjudicatario de la gestión de los festejos taurinos populares y el Ayuntamiento de Ciudad Rodrigo ha conseguido salvar la segunda capea del Carnaval del Toro que se celebra en la madrugada del Martes, después del acuerdo alcanzado entre los hosteleros.