The new commander of the Civil Guard Cáceres, José Moreiro Píriz, has moved its "service provision" citizens of the province cacereña Government Sub Cáceres, Fernando Solís.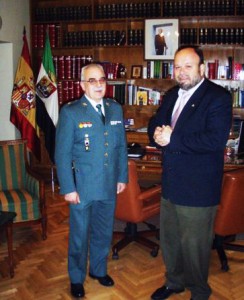 Commander, born in Navasfrías (Salamanca) in 1952, married with two children, he entered the body 1969 and comes from the Association of Reserve and Security (ARS) de Madrid, where he has been in the last ten years. It should be noted that it has been assigned to Barcelona, in Units and Drug Information, until his promotion to lieutenant, when he was sent to Salamanca in Fuentes de Oñoro.
En el año 2001, Moreiro Píriz collected in the Air Service and the ARS Madrid. Among the awards he has, the Order of Merit of the Civil Guard with White Distinction and Medal Awarded include UN
José Moreiro Píriz, who will take over as deputy chief of the Command of the Civil Guard Cáceres, He was here Wednesday subdelegado accompanied by Lieutenant Colonel of the Civil Guard, Gabriel Domínguez, as it reported by the Prefectures in press release.