Cold I think we've all noticed in recent weeks. After a summer that lasted cold suddenly entered.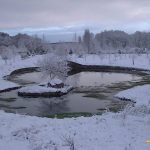 A total of 13 regions, all except Andalusia, Balearics, Canaries and Murcia, well as Ceuta and Melilla, They woke up this morning with the thermometer below zero, y el punto más frío se registró en El Pedregal (Guadalajara), donde el mercurio descendió hasta los -12,5º C.
Según datos de la Agencia Estatal de Meteorología (Aemet) el amanecer de hoy a las 7.15 hours, llevó consigo gélidas temperaturas en gran parte de España, salvo los dos archipiélagos y el sur peninsular.
Nuestro pueblo, Navasfrías no permaneció ajeno a estas temperaturas bajo 0 donde se registró una temperatura mínima of -8,7º C.
En el resto de Castilla y León el amanecer también fue helador y el registro más bajo tuvo lugar en el Puerto de San Isidro (León), donde el mercurio se desmoronó hasta los – 8,9 grados bajo cero; Palacios de la Sierra (Burgos), with -8,5; Ucero (Soria), with -8,3; La Póveda de Soria (Soria), with -8,2; Arcos de Jalón (Soria), with -7,6, y Monterrubio de la Demanda (Burgos), with -7,5 fueron los municipios que alborearon con el termómetro bajo mínimos.