El pleno de la Diputación Provincial de Salamanca ha aprobado, Thursday, 28 November, the use of additional work remaining to be part of the Special Supplemental Plan 2013. In like manner, for all these actions, La Salina da luz verde para que los ayuntamientos de la provincia sean las administraciones que se encarguen de la contratación para la ejecución de estas obras.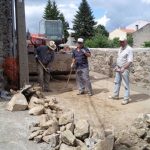 And total, La Diputación Provincial de Salamanca ha aprobado disponer de
1.132.113 euros
para un conjunto de ochenta actuaciones en ochenta municipios de la provincia. Las
obras
que destacan son la pavimentación de calles, renovación y saneamiento de redes, o la renovación de alumbrado público y otras ejecuciones que tienen que ver con las instalaciones o infraestructuras
municipal
.
Relación de los pueblos en los que se acometerán futuras obras
Los pueblos beneficiados son Abusejo, Ahigal de los Aceiteros, Alaraz, Alberguería de Argañán, Aldearrodrigo, El Arco, Armenteros, Barbadillo, Cabeza del Caballo, Cabrerizos, Calvarrasa de Arriba, Canillas de Abajo, Cantalapiedra, Carrascal de Barregas, Carrascal del Obispo, Cereceda de la Sierra, Cespedosa de Tormes, Cipérez, Coca de Alba, Colmenar de Montemayor, Cristóbal de la Sierra, El Cubo de Don Sancho, Doñinos de Ledesma, The Encina, Encinas de Arriba, Endrinal, Fresnedoso, Fresno Alhándiga, Gajates, Gallegos Argañán, Hinojosa de Duero, Horcajo de Montemayor, Juzbado, Lagunilla, Linares de Riofrío, Lumbrales, Madroñal, Martin Yeltes, Masueco, Matilla de los Caños, Mogarraz, Morille, Mozárbez, Nava de Francia, Navasfrías, Olmedo de Camaces, La Orbada, Parada de Arriba, Parada de Rubiales, Pedraza de Alba, Pedrosillo El Ralo, Peñaparda, Peñaranda de Bracamonte, Poveda de las Cintas, Puebla AZABE, Puebla de Yeltes, Robleda, Rollán, La Sagrada, Salmoral, San Martín del Castañar, San Miguel de Valero, San Muñoz, Sancti-Spíritus, Santa Marta de Tormes, Santiago de la Puebla, Sieteiglesias de Tormes, Sobradillo, La Tala, Tamames, El Tejado, Trabanca, Valdecarros, Valero, Valverdon, Vega de Tirados, Ventosa del Rio Almar, Villaflores, Villavieja de Yeltes y Villoruela.