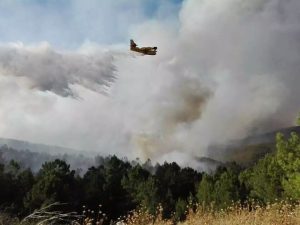 Declared Fire in the Sierra de Gata.
Unfortunately we have to give the news that yesterday afternoon has been declared a fire in Acebo which is advancing unstoppably to nearby towns.
The town of Holly has been evicted along with Perales del Puerto, its inhabitants have been taken for their safety to Moraleja.
In the area there are a total of 7 seaplanes, a helicopter and dozens of civil protection teams.
The work of extinction unrelieved.
From Navasfrias.net we give all our support, and encouragement.
We are dismayed not stop looking at the sky and watch helplessly as the flames advance.
Report Sierra de Gata is a protected natural area with a great diversity of fauna and flora.
Note that in 1977, the whole territory of the region was included by the ICONA in the Open Inventory of Natural Areas of Special Protection. The most important are the Ornithological Reserve Reservoir Borbollón, Black Vulture Reserve in the Valley Árrago, Landscape Reserve of Mount Jálama and Biological Reserve Sierra de Gata.
We share a link recorded from a helicopter.