Restaurant owners Abanicu U, de Valverde del Fresno, inaugurated the next day 30 este hotel emblemático en la localidad salmantina del Alto Águeda
Francisco Javier Lanchas y Guadalupe Mateos, Restaurant owners valverdeño U Fan, inaugurated the next day 30 March the lodge La Raya in town Salmantina Navasfrías.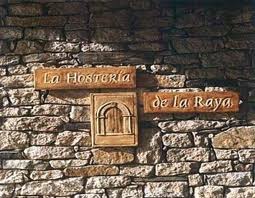 La Raya, ha permanecido cerrada durante los dos últimos años a pesar de sus buenas y singulares instalaciones. Tras mucho pensar "o quizá porque no lo hemos pensado demasiado", el matrimonio formado por Guadlupe y Francisco se han "liado la manta a la cabeza" y han apostado por emprender un nuevo proyecto empresarial en estos momentos en los que la crisis arrecia. Moment, y antes incluso de abrir sus puertas, ya han creado dos puestos de trabajo y, debido a las dimensiones del hotel es previsible que en breve creen un puesto de trabajo más.
Este establecimiento emblemático cuenta con doce habitaciones y dos salones de grandes proporciones más un bar también con salón. El edificio se encuentra sobre una finca de cinco hectáreas cuyo elemento central es un hermoso estanque rodeado de bosques de castaños y robles lo que otorga al lugar un espectacular cambio cromático con el paso de las estaciones. Hace años el estanque contaba con truchas y Francisco y Guadalupe esperan recuperar la pesca más adelante.
Sus nuevos propietarios pretenden atraer público de todas las edades incluso público profesional que utilice las instalaciones para reuniones empresariales. En su bar restaurante ofrecerán un menú económico y una amplia carta llena de deliciosos platos a los que ya nos tienen acostumbrados en U Abanicu y que en estos momentos "estamos ultimando".
En la época de hongos, nos cuenta Guadalupe Mateos, "queremos organizar jornadas gastronómicas y de búsqueda de setas" para atraer al público aficionado a la micología.
fuente:sierradegatadigital.es