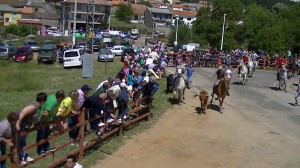 One more year with the festivity of San Juan our patron, the traditional bull runs are celebrated in Navasfrías.
Compartimos con vosotros el encierro de la mañana.
Cuanto tengamos el resto de vídeos los compartiremos con todos vostros/as.
saludos navasfrias.net siempre con vosotr@s.
Enlace al vídeo del encierro y vaca prueba.