On the morning of Tuesday, day 15 February, have appeared at a press conference the deputy Mayor of Ciudad Rodrigo, Marcelino Lamb, Celebrations and Councilman and Chairman of the Commission Taurine, Enrique Cencerrado, to present the participating farms in the popular bullfights Carnaval del Toro, as well as the poster chopped festivals on Saturday and Shrove Tuesday.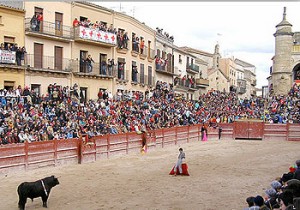 Taurine program Carnival of Ciudad Rodrigo 2011, made public this morning, It is as follows:
Sábado día 5:
00:45 hours – Capea night with two bulls Flores Tassara.
11,30 hours – Urban lockdown with 3 Bulls Livestock Flores Tassara.
16:45 hours: Festival Taurino Picado
Four steers Sayalero and Bandrés for matadors:
Vicente Barrera
César Jiménez
Víctor Janeiro
and Novillero: Jimenez Fortes
Domingo día 6:
11,00 hours – Encierro de Campo (Bull Run Horse). Livestock seven bulls Priming Gago.
16,45 hours. Bullfight without biting.
Three Steers Livestock D. Cándido Flores, for the Achiever of Bolsín Taurino and, second and third place of Bolsín Taurino.
Monday the 7:
11,00 hours – urban confinement
Seven bulls from the ranch of Barcial.
16:45 hours: Novillada for the two finalists Bolsín with two young bulls livestock Cándido Flores.
Tuesday, 8:
00,05 hours – Capea Night, two bulls from the ranch of Flores Tassara.
9,00 hours – Toro del Aguardiente, Livestock of Caridad Cobaleda.
11 hours. Urban lockdown. Seven bulls from the ranch de la Plata.
16:45 hours: Festival Taurino Picado
Table steers livestock Mayor Santos for right-:
López Chaves
Eduardo Gallo
Juan Antonio Siro
Novillero and Damián Castaño
Stop oxen for popular festivities will be Pedro Caminero.
They have been visited 16 Taurine cattle ranches since the Committee began selecting bulls in the early days of December. Forty-two bulls be those involved in the Carnival 2011, from them 21 salmantinas from herds and 21 Andalusian farms.
The deputies have been accompanied in his appearance by the matador Juan Antonio Siro and novilleros Cortes Jimenez and Damián Castaño, and by the farmer Cándido Flores, the head of the organizing company, Manuel Martín Toros y el edil Pedro Muñoz.