La formación Izquierda Unida en Ciudad Rodrigo organizó una salida a uno de los rincones de mayor riqueza medioambiental y biodiversidad de la provincia de Salamanca: The Rebollar /Sierra de Gata, in order to start "campaign sensitization one of the most emblematic animal of the Iberian Peninsula and in critical condition: the Iberian lynx". This project deals with numerous opportunities opening up "with support and encouragement between conservation and development, environmental tourism and conservation works "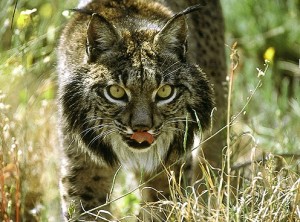 The presence of the cat in the area is "seriously evidenced, not only by sightings of local populations, hikers and hunters, but recent scientific data provided, some of them of significant importance as those included in the new Strategy Conservation Iberian lynx, signed among others by the Autonomous Community Castilla y León and in which it is collected as current distribution in Salamanca Sierra de Gata ". IU will have the technical means, scientific and human resources necessary to publicize the unique values ​​of El Rebollar / Sierra de Gata, enlisting the collaboration of Universities and Technical Environment, without forgetting the environmental sustainability of the Serra de Malacata, en Portugal.
For Santiago Mota, Area contributor UI environment,"It is crucial conservation of this area, since their almost 300 square kilometers are suitable to remain the habitat Iberian lynx ". Mota remember that there are now six lynx cubs have reached the neighboring district of Granadilla to present this similar characteristics to Rebollar / Sierra de Gata and there is a commitment firm by the Junta de Castilla y León of the year 2008 in having a draft reintroduction for the Iberian lynx before 2012, which would be a strong investment en la comarca Ciudad Rodrigo and boost economic engine as respecting the environment.
From navasfrías.net we support any initiative for the conservation of both the Iberian lynx in this case, and the fauna and flora which we have in our region. We hope to have more days like this in which it is to know a little more our land Navasfrías and around.
A greeting from the team Navasfrías.net