La capital alcanzó a las 17:10 hours 39,1 grados centígrados, superando en casi un grado la máxima histórica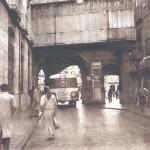 Desde el año 1970 que comenzaron los registros de las temperaturas en Salamanca nunca se habían alcanzado en el mes de junio los 39,1 grados centígrados a los que llegó ayer el mercurio, en concreto a las 17:10 horas según la Agencia Estatal de Meteorología, ya que hasta la fecha el récord se había establecido en este mes en 38,9 degrees.
Esta cota convirtió a la ciudad en el punto más cálido de toda la provincia, aunque la noche más tórrida se vivió en Ledesma, con una mínima de 17,8 grados a las 7:30 hours. En el lado opuesto a la histórica jornada calurosa de Salamanca se encuentra en la provincia Navasfrías, donde el termómetro registró un nivel máximo de 28,1 degrees (11 grados menos que en la ciudad) y un mínimo de 11,3 degrees.
Asimismo, la capital del Tormes fue el cuarto punto más caluroso de Castilla y León ayer, por detrás de la localidad abulense de Sotillo de Adraba, donde se llegó a 42,1 degrees; de Cebreros, with 39,8 degrees; y de Cuéllar, with 39,4 degrees. Mientras tanto, el municipio más frío de la región fue El Puerto del Pico, en Ávila, donde el mercurio cayó hasta los 9,4 grados a las 6:50 hours. Según las previsiones de la Agencia Estatal de Meteorología el peligro de la ola de calor ya ha pasado, dado que la provincia no estará en nivel de alerta ni hoy ni mañana.