Our friends from A Revolera send us the following news.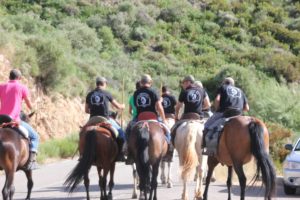 Our neighbors from Navasfrías are celebrating their patron saint festivities and from the A Revolera association we are going to accompany them.
El domingo 25 de junio, we will assist horses and horsemen, of the Rayano peoples of Portugal, Salamanca and the entire Sierra de Gata de Extremadura, to run the running of the bulls on horseback taking advantage of the fact that they are the first running of the bulls on horseback of the season.
The salida will take place in theMesón el Quijote", a las 08:30h, We will leave in the direction of Navasfrías, to run the confinements of San Juan on horseback, This route and running of the bulls has been done in A Revolera since its inception.
Upon reaching the limit of the province of Salamanca and Extremadura in the high we will have a soft drink, to face the last section to reach Navasfrías, where we will have lunch with our friends next to the river to gain strength and be able to face the long-awaited confinement on horseback throughout the year, Being the first of the season, the horsemen are somewhat nervous and eager to run the running of the bulls.
After the afternoon capea, We will head towards the lands of Extremadura, enjoying panoramic landscapes of the entire sierra de gata and villages, due to the height and geography in which the town of Navasfrias is located.
President of the Association of Horses The Revolera