The Carnaval del Toro, the 17 to the 21 February, have two bullfighting festivals, to be held on 18 and 21 February, in the ring these days homer is built in the Plaza Mayor mirobrigense.
Bullfighters Juan del Alamo, David Mora and Iván Fandiño be three of the protagonists of the festivals that offer the Carnaval del Toro of Ciudad Rodrigo, whose organization has been awarded today to abulense businessman Martín Perrino.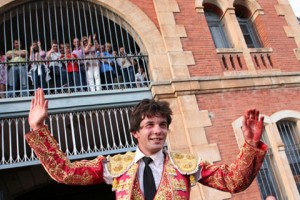 As explained by the entrepreneur himself today, "Carnival iran, insurance, David Mora, Juan del Alamo and Iván Fandiño" and the city can choose from other figures as vallisoletano Leandro, Seville Salvador Cortés or abulense César Jiménez.
Also, Martín Perrino, whose company operates in Arévalo (Ávila) novilladas will have to organize days 18 and 20 February, urban confinements and capeas for which will receive an amount of 118.000 euros.
And total, Martín Perrino bid 39 bulls that will be run by the streets of Ciudad Rodrigo during the days of Carnival.
The bulls will be chosen by a committee of the City mirobrigense, which you can choose bulls from herds as Pablo Romero, Guardiola (both of Sevilla), Guillermo Acosta (Huelva), Montalvo, Manolo Jimeno, Mayor Santos inheritors (both of Salamanca) or Jacinto Ortega (Jaén).
Martín Perrino, already it organized the popular bullfights Carnival 2010, Has promised "not disappoint" the councilor of Celebrations of the City of Ciudad Rodrigo, Carmen Cambronero".
Last October 6, Carnaval del Toro was declared by the Junta de Castilla y León Bullfighting Traditional.
The city of Ciudad Rodrigo boasts the oldest confinements of Spain, by having a document so credited, dated 1417, which she speaks of the permissibility of raising talanqueras on the streets of Miróbriga to run the bulls