INAUGURATION OF ROAD Navasfrías-VALVERDE FRESNO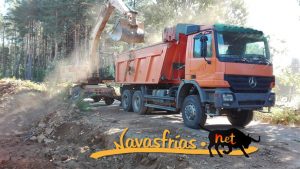 After eight months or so that the works were begun, de la carretera que une Navasfrias con Valverde del Fresno en el día de hoy Jueves 6 May 2017 sobre las 12:30 hours have proceeded to the opening of that road which was attended by the President of the County Council of Churches Dr Javier Salamanca . D. Marcelino Cordero y otras autoridades de la JCYL Acompañados por la corporación local del AYTO. of Navasfrias.
The works began on 15 August 2016. Company UTE Navasfrias.
After nearly three decades with the road finally performed the works. Here's the link to the photo gallery that Audiovisual equipment navasfrias.net have taken over the course of the works.
https://goo.gl/photos/deggU6CzvNdS6bwV7