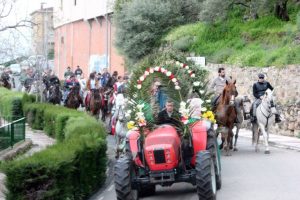 Pilgrimage Pastora
One more year, el tercer fin de semana después de Semana Santa, la Asociación de Caballos de "A Revolera" de Valverde del Fresno, tiene una cita con la Virgen de la Divina Pastora en la localidad de Eljas.-
On Sunday 07 de mayo, as is tradition since the founding of the Association "A Revolera", asistiremos a la citada romería, acompañando en procesión a la Virgen con los caballistas de la Sierra de Gata.
Lagarteirus us year after year, engalanan el remolque que transporta a la Virgen de la Pastora, with flowers of the Sierra de Gata, then leave in procession to the Hermitage.
-La salida es desde el Mesón el Quijote, a las 09:00 horas de la mañana del Domingo, where we meet all riders of Valverde del Fresno, para ir a Eljas y juntarnos con nuestros amigos paisanos de la Asociación Cabalus Amigus de San Blas.-
-A las 10:00 horas todos juntos a caballo y caminado acompañamos en procesión a la Virgen de la Pastora, from the door of the church in Eljas to Pastora.-
Jose Ignacio Donoso Martin, (Fabio)
President of the Association of Horses The Revolera.
Desde navasfrias animamos a todo aquel que lo desee a ir a disfrutar de la romería.