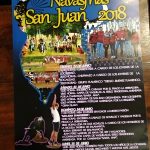 Navasfrias one more year prepares to undertake the festivities in honor of its patron saint ….San Juan Bautista.
HE Ayto Navasfrias is undertaking the procedures for the celebrations to be held in the month of June as the poster adjunta.Un year more encourage all navasfrieños and suburban towns, que se animen y se vengan a disfrutar de estos bonitos encierros.
En el area recreativa de " EL Bardal ", we have a wonderful robledal , for rest and gather strength for the evening capeas . It is equipped with beach bar ( BAR) ( SWIMMING POOLS) ( SERVICIOS CON DUCHAS ) donde poder degustar unas buenas viandas y darse un chapuzón. Animo a todos y veniros que os lo pasareis a lo grande.