The town of Ciudad Rodrigo Salamanca host of 21 to the 23 September XII Horse Fair, attending an event breeders various parts of Spain and Portugal, and this year has scheduled a "Medieval Fair" into the trenches of the wall.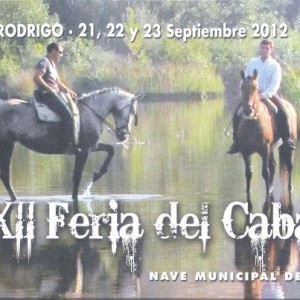 "La escenificación de luchas por parte de caballeros medievales en un entorno como la muralla de Ciudad Rodrigo será uno de los eventos más llamativos", ha explicado hoy en rueda de prensa el concejal de Ferias, Ignacio Hernández.
Durante los tres días de este certamen habrá exhibición de diferentes razas equinas, sobre todo Pura Raza Española, Árabe, Lusitana y Anglo-árabe, con más de un centenar de ejemplares.
La feria se completará con rutas a caballo por la comarca de Ciudad Rodrigo, la celebración del XI Concurso Nacional de Doma Vaquera y una exhibición de saltos.