The Council of Salamanca and the Portuguese Beira Interior Norte Macha region will in the coming months a project to jointly market the products of food and agriculture in these areas on the domestic markets and the rest of Europe.
This has been released today, durante la celebración de la Primera Feria Agroalimentaria CENCYL, donde participan en Ciudad Rodrigo artesanos alimentarios del oeste de Salamanca y de los pueblos portugueses de la frontera.
El objetivo de este proyecto, que coordina el Organismo de Empleo y Desarrollo Rural de la Diputación de Salamanca, es crear una red donde personal especializado de ambos países puedan comercializar conjuntamente los productos típicos de la zona.
Productores de las comarcas de Ciudad Rodrigo y Vitigudino han exhibido hoy durante la feria, que se celebra en la Plaza del Buen Alcalde de Ciudad Rodrigo, todo tipo de embutido de lomo, chorizo, salchichón, morcilla y farinato, además del jamón ibérico de bellota.
Por su parte, los artesanos portugueses han mostrado lo mejor de la repostería de Guarda, Coimbra y Viseu.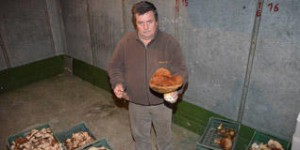 Por parte española han llamado la atención los patés de hongos del empresario de Navasfrías (Salamanca) Florencio Ramos, que elabora este tipo alimento con Boletus Edulis y los perrochicos (Gambosa) como base del paté.
The "ovos moles" (yemas de huevos) de Aveiro, elaborados con harina de trigo, yema de huevo y azúcar; o las "queisadas" de Tentúbal (en la región portuguesa de Coimbra), son otros de los alimentos que también han sorprendido a los visitantes de esta feria, que estará abierta al público hasta mañana domingo, 15 de julio.