A company from Australia, Qbis Resources, has made more than 100 prospecting in the area of ​​the river Agueda, finding a ratio of gold very high productivity. Have the permission of the Board to initiate more research.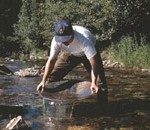 ¿A quién no le interesa el oro? Maybe it's a rather obvious question, pero hasta este momento ninguna empresa en firme había puesto tanto ímpetu en realizar investigaciones en la zona del río Águeda, ubicada entre las localidades salmantinas de Navasfrías y El Payo.
Qbis Resources es la sociedad de origen australiano y afincada en Granada que ya tiene el visto bueno de la Junta de Castilla y León para realizar diferentes estudios en esta zona con el fin de certificar algo que ya ha dejado claro en las más de 100 prospecciones realizadas hace tiempo.
El resultado de estas primeras pruebas reflejan, según la empresa, que esta empresa cuenta con un ratio de productividad muy elevado, por lo que la explotación de las pepitas de oro de esta zona adquiere un gran valor.
"Por el momento no tenemos muchos datos más, pero sí es cierto que esta empresa tiene ya el visto bueno de la Junta para iniciar más estudios en esta zona. Realizarán investigaciones geológicas ya que la riqueza de este lugar es concocida en todo el mundo". Así lo ha indicado el alcalde de Navasfrías y diputado provincial, Celso Ramos, quien ha destacado además que mucha gente particular acude a esta zona para realizar prospecciones y buscar libremente oro.
No en vano, esta empresa australiana cuenta también con la colaboración de la Universidad de Salamanca para investigar la presencia de oro en la zona del río Águeda. No en vano, también existe un convenio con la Escuela de Minerología de Madrid donde está expuesto el oro que aquí se encuentra.
El beneficio de estas investigaciones llegará al Ayuntamiento de Navasfrías a la hora de realizar las prospecciones pero también para los propietarios de las tierras donde se realicen los estudios con el único objetivo de sacarle el máximo rendimiento a un oro con el que salen ganando todos.
Source http://www.tribunasalamanca.com/