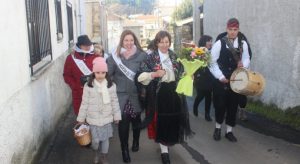 FEAST OF Águedas Navasfrías
As every year the women of our village like many others celebrate the feast of the Águedas.
Women toured the town accompanied by family, friends and neighbors and enlivened by the drummer Pablo Holgado Ferreira.
A little history about this festival:
Celebration Women's Day has his origin in the cult of holy Sicilian who suffered martyrdom. After they cut out the breasts, He appeared an angel brought the palm of victory and a medicinal plant that cured. Therefore it is invoked as a protector of breastfeeding. According to Caro Baroja, the festival has its roots in the "Matronalia" Roman, that "they were dedicated parties to ensure the fertility of women" and were attached to the cult of Juno Lucina (1).
In a newspaper article, Rosa M. Lorenzo realized traits that characterized the celebration of the feast of St. Agatha in the province of Salamanca. Así, He stated that the organization was provided by a mayor or mayordomas. With religious acts, there were other laymen representing a reversal of roles (dancing flag for women, the seizure of municipal power and the act of bringing men to dance).
Profane part began telling the ethnographer salmantina- Go on Monday with the preparation and engraftment of the fire, with which the dance was held. In some locations, besides performing racing cocks, subsequently serving snack. Also that day (or next) It took place the request of the mayor maces. At dusk (or at dawn on Day Five) dawn sung. Another feature was the request for money or food to men, that was performed during some previous holidays.
The religious part consisted in the celebration of Mass (with the offertory buns, candles or money from women) and the procession, in which they were in charge of carrying the bier.
After these religious acts the invitation was made. In the evening there was dancing, in which women showed an unimaginable disinhibition on another day of the year.