The people of The Bodón and Fuenteguinaldo opened Saturday afternoon in its program of events in January around the Bicentennial of Battle of The Bodón. They did it in the first of those municipalities, with the representation of the play Heroines Limited, una de las tres partes de la trilogía "Teatro de la Guerra" escrita por Santiago Corchete.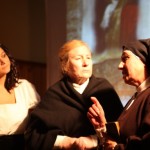 El Salón de Actos del Ayuntamiento bodonés se llenó para asistir a este montaje dirigido por Pablo Moreno y protagonizado por tres mujeres, en una obra que intenta reivindicar el papel femenino en los hechos de hace 200 años. Lo hace a través de tres mujeres bien diferentes: Sor Encarna, que se ocupa de la atención a los enfermos; una prostituta, Famiana, con una gran visión humana; y la heroína, personificada en la figura de Lorenza Iglesias.
Ellas tres juntas intentan urdir un complot para apoyar a los guerrilleros que trabajan en la resistencia de la zona. En la representación de El Bodón, los papeles de estas tres mujeres fueron interpretados por Olga Nieto, Mili Domínguez y Ángeles Barrios. Existe otro cuerpo actoral, de otras tres mujeres, que serán las encargadas de interpretar la misma obra el próximo domingo 22 en Fuenteguinaldo (en el salón de la Mancomunidad Alto Águeda desde las 18 hours).
Esta obra ha servido también de punto de arranque para "La Catarsis del Bicentenario", el nombre con el que se ha bautizado a un proyecto puesto en marcha por el Ayuntamiento de Ciudad Rodrigo y Adecocir, financiado con fondos Leadercal. En este proyecto colaboran la Fundación Ciudad Rodrigo 2006, Z-Teatro, Contracorriente Producciones, los ayuntamientos de El Bodón y Fuenteguinaldo, la Mancomunidad Alto Águeda, y la Comisión del Bicentenario de El Bodón y Fuenteguinaldo. El objetivo final es dar a conocer la comarca a través de la historia y el patrimonio.
fuente.ciudadrodrigoaldia.es