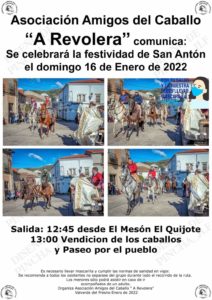 Our friends from A revolera, on the occasion of the festival of San Antón they will celebrate next Sunday 16 January a route on horseback
The route will start at 12:45 At El Mesón El Quijote, then at 1:00 p.m. to bless the horses and then take a horseback ride through the town.
Since we are in the middle of a pandemic, The use of a mask will be mandatory and comply with current health regulations.
Attendees are also recommended, not be separated from the group during the route on horseback.
Minors may attend as long as they are accompanied by an adult.
We wait for you next Sunday 16 en Valverde del Fresno.