"ROUTE ON THE HORSE OF THE COUNTABANDO THROUGH CASTILLA Y LEÓN, FROM VALVERDE DEL FRESNO (Caceres) to NAVASFRIAS (SALAMANCA) Y BISHOP'S VILLAGE – FOIOS (Portugal) ".
Sunday day 08 from December, It will be carried out by our friends from the Amigos del Caballo association "A Revolera" the expected and requested horse route. THE ROUTE OF SMUGGLING
Below is the statement sent by the President of the Association of Horses of A Revolera. D José Ignacio Donoso Martin (Fabio)
– This route on horseback of the contraband of Castilla y León unites four brother peoples, that they united in times of smuggling, to our parents and grandparents since there were several smuggling routes and the one that circulates through Castilla y León it was very popular. Being a terrain with great difficulty to go to horse with the cart of coffee or tobacco, because of the steepness of the terrain.
The route on horseback will pass through Navasfrías, Aldeia Do Bispo y Foios among others:
– They went out on horseback from Valverde del Fresno with direction Navasfrias, for coffee and tobacco, my father Emilio Donoso tells (Fabio). That, when they were going to Navasfrias and they went to Aldeia Do Bispo and Foios, friendship with the neighbors was as if they were at home, they treated them as one more, giving them shelter and bread when they needed it, he tells me excitedly. On numerous occasions they spent several days in the Portuguese area or the area of Navasfrias and there they forged good friendships, that still endure and it is pleasant to remember and not forget.
– Thanks to the Mayor of Valverde del Fresno, Navasfrias, Aldeia Do Bispo, Foios and the Horse Association the "A Revolera" from Valverde del Fresno. We have managed to come together to make a horseback route between the four sister towns a reality., since it is very required by our parents and grandparents, who want to let us know the ties of friendship that unite them with these peoples and thus thank the people of Navasfrias, Aldeia Do Bispo and Foios, his good work in times of yore with our parents and grandparents, gracias.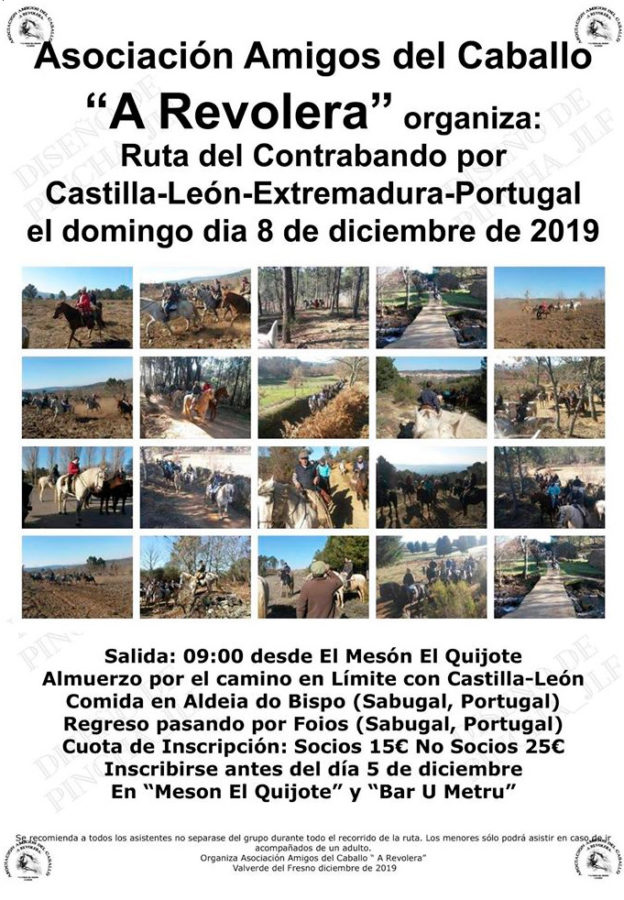 The departure of the Horse Route Smuggling through Castilla y Leon will be from the Mesón the "Don Quixote" at 9 de la mañana
The exit of the Route Smuggling will take place at the Mesón el "Don Quixote" at 09:00 Sunday morning hours 08 from December. We will gather all the horsemen, to go in the direction Navasfrias (Salamanca). Lunch will be taken at the border of the provinces, then we take a walk through the town of Navasfrias and we will take direction to the border with Portugal to go to Aldeia Do Bispo. Where we will eat typical Portuguese food at the bar Halmas like cod with cream and pork (nasty).
The lunch stop of the route will be in Aldeia Do Bispo to taste typical Portuguese food such as cod
After eating at Aldeia Do Bispo we take direction Foios, Where Portuguese friends await us. We will have a soda and we will remember old times and we get excited telling their stories of yore when smuggling.
---
---
He will take the address on Blackboard to go along the trails that our parents and grandparents traveled with contraband in the past. Almost between the light and shadows, since the night surprises us on the way, entertains himself by telling smuggling stories and with songs to San Blas. The cabaleirus already feel for their proximity.
To Smuggling Horse Route through Castilla y Leon Horse associations and horse-loving friends will attend, como:
Valverde del Fresno, Eljas, San Martín de Trevejo, Villamiel, Hoyos, Holly, Cilleros, Moraleja, Navasfrias, El Payo, obishop's village, Quadrazais, Foios, Soito, Penha Garcia, Penamacol.-
President of the Association of Horses of the A Revolera.
More info: https://www.facebook.com/arevolera.valverdidufresnu/​