The Ministry of Environment and Rural and Marine Affairs (MARM), through the Duero Water (CHD) He has released two publications that reviewed the fauna and flora of the region of El Rebollar and traditional mills that still can be found in the upper basin of the river Agueda in the province of Salamanca.
The first book, entitled 'The Rebollar. living landscape ', describe a través de una serie de fichas los siete sistemas ecológicos que conviven en este A natural space, of about 50.000 hectares, situado en los límites meridionales de la provincia de Salamanca, between the Portuguese border and cacereñas Hurd.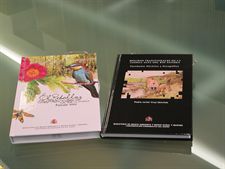 Specifically, according to Europa Press reported sources of the basin organization, It gives an overview of the two hundred species associated rebollar, the terebinth, the bush, the pinewood, to the mountains, the aquatic environment and populations. Seven big natural systems que se encuentran en este espacio perteneciente a la Red Natura 2000 and listed as Location Community interest (LIC) by the Board Castile and León.
We are talking about an area with a large biological community among which include such unique plants like timelea or Armory Salamanca, en la que aún se pueden encontrar tesoros de la fauna ibérica como el vulture black or lynx and invertebrates as mussel river, one of the rarest and most endangered species in Europe.
The book brings us closer, by about two hundred chips, these and other species through a small description of extraordinary photographs accompanied.
Along with this publication the MARM has published a second letter by Pedro Javier Cruz book entitled "Molinos Traditional high river basin Águeda". En una primera parte el libro hace un repaso por la historia, importancia económica y arquitectura tradicional de los molinos de la zona mientras que, en una segunda parte, hace un catálogo de todos los molinos que aún se pueden encontrar en la cuenca alta del río Águeda.
The fact sheets of each mill are accompanied by photographs and drawings that bring us to this infrastructure, destinadas antiguamente a moler el wheat and rye and now, in disuse.
Both the study of the El Rebollar as on Mills Agueda, which they are reflected in these publications, They were covered within the compensatory measures established by the Ministry of Environment, Rural and Marine for the construction of the dam Irueña (Salamanca).
Most of the five thousand copies which they have been edited each of the books have sent a los municipalities from the: Fuenteguinaldo, El Bodón, The Gonzalez, Robleda, Peñaparda, Villasrubias, El Payo, Casillas de Flores and Navasfrías, for municipalities distribute them among vecinos of each locality.