Now that we are in full season of mushrooms and boletus especially this recipe is delicious if you like mushrooms. If you have not boletus can try to do it with any other mushroom, even the culture as it is an exquisite pairing the combination of mushrooms and ham.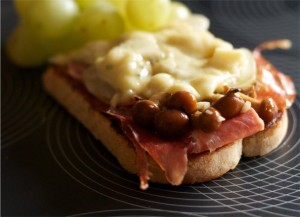 Ingredients:

Bread slices
1 onion
Boletus, níscalos or any other mushroom culture we have at hand
taquitos or strips of ham.
eggs
will
Foie that we like, I recommend the Iberian.
Elaboration:

We take the bread and cut several slices, This is better if we do it with the typical bread loaf or bread but also people will be very rich with bread bar. Once the roast slices cut in electrical or toaster if you have some more time the put it in the oven for 2 the 3 minutes until the bread this parched.
In a pan with a little oil add the shredded mushrooms and braise minutes, Next add the finely chopped onion and braise with mushrooms, when we add the ingredients both ham in small pieces or strip, Next add eggs and salt, we left a few minutes and when we add the egg in birutas foie removing all very well to blend flavors ...
Below we distribute the mixture over the slices of toast and we have a delicious recipe to taste ...