John 2016 Navasfrias advance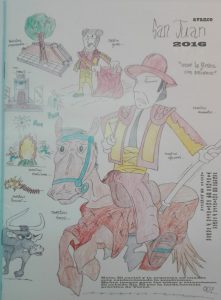 A month after the celebration of the festivities in honor of our patron San Juan.
From navasfrias.net we want to make you a little preview of how we'll celebrate, pending the final lineup of the parties.
With this development we wanted to rescue a sign was winner in one of the contests held with the participation of village children and an article written by the pastor of Navasfrias, Matias few years ago.
We will be there like every year to record events and conducting our interviews.
Jueves 23
traditional bonfire (location TBD, surely in Las Eras)
Viernes 24
Confinement and traditional capea.
Saturday 25
Confinement and traditional style capea.
El domingo 25 no kind of celebration is expected because it coincides with the general election.
As we have more information we will share with you all.
Greetings to all. Visitanos estamos en https://www.navasfrias.net.. Something different.
Videos of previous years