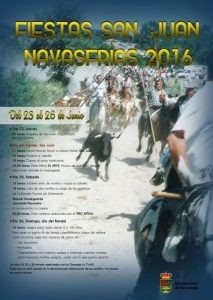 Navasfrías celebrates its celebrations of San Juan 2016.
It has been expected but we have closed our poster of celebrations of San Juan 2016.
A year celebrate the feast of our patron overhand.
Compared to other years there are small modifications of days because on Sunday we go to the polls.
However, We have a good lineup of festivities that will make us enjoy all, bonfire, music, toros.
No shortage rollovers, interviews and good atmosphere.
Desde https://www.navasfrias.net we encourage you to come and enjoy the festivities in honor of our patron.
We leave you a video of a "home" between a bull and Juan Miguel.