CAMPAMENTO Navasfrías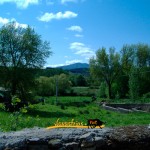 The town of Navasfrías It will host one of the 75 youth camps which will carry out the Department of Family and Equal Opportunities de la Castilla and leon meeting next summer with the brand 'Red Activa'.
These camps will be held in different parts of the region, for other regions and even outside Spain (there will be one in Germany).
In the total of the province of Salamanca, habrá 6 camps (the others will be in Peñaranda de Bracamonte, Aldeadavila de la Ribera and Villarino de los Aires) different themes. In the case of taking place in Navasfrías, It will include both Environmental education como Multisports.
According to the complete list of camps released by the Board, the appointment in Navasfrías It will be developed the 1 to the 10 de julio, can participate in it 45 lads 12 a 14 años.
The price of the camp is assistance 221€, with discounts for large families.
The deadline for submission of applications to take part in this camp or any of the other 74 It will end next 18 de abril. Complete information on this call for camps is available here: https://www.tramitacastillayleon.jcyl.es/web/jcyl/AdministracionElectronica/es/Plantilla100Detalle/1251181054765/_/1284795996918/Tramite.
Source: http://salamancartvaldia.es
Stay informed of news Navasfrías