The Court of Ciudad Rodrigo has also opened preliminary proceedings against the Secretary, José Manuel Esteban, and the architect Luis Alfonso Angulo. The three must declare next Tuesday 29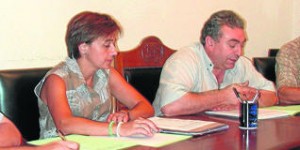 The former mayor of the municipality of mirobrigense region of Fuentes de Oñoro who was in front of City Hall between 1991 and 2007, Jesus Lanchas, It has been charged with an alleged crime of forgery and breach of trust by the Court Number One of Ciudad Rodrigo.
In addition to the alderman, the examining magistrate has opened preliminary proceedings against the secretary and architect who exercised in the Consistory of the border town between 2003 and 2007, José Manuel Esteban and Luis Alfonso Angulo, respectively, apparently charged with the same alleged offenses.
The complaint originated in the complaint that was filed by the current government team regarding the award of the work of a nursing, Tuesday explained to this newspaper the independent mayor of the border town, Isidoro José Alanís. The councilman explained that these procedures contained "two alleged offenses, first, in the allocation between the municipality and the company in charge of the construction work in 2005 ".