Sociedad Zoológica denuncia práctica ilegal de caza con lazo en Sierra Gata y ha criticado la "impassivity" Administration in this matter.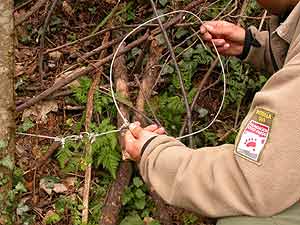 In a statement sent today to EFE, conservationist group includes several photographs that the existence of two steel loops on the stone wall that divides the municipalities of Eljas seen (Caceres) y Navasfrías (Salamanca).
En este sentido, He has urged the authorities to conduct a surveillance "more comprehensive" and guards means obliging environment "to kick these areas", something they have not done even though this information was brought to the attention of the Directorate General for the Environment two weeks ago, He asserts.
The Zoological Society has shown that this illegal practice may affect protected species, as is the case of the Iberian lynx, in danger of extinction, "as this area is included in the National Recovery Plan Lince Ibérico, plus it is listed as a Site of Community Importance and ZEPA area".
The group has criticized the "wane" that is occurring in the work of monitoring these protected areas, a fact that, his trial, "allows poachers and trespassers run free".