Interview with José Bellanco DN candidate for mayor of Navasfrías (Salamanca)
municipal 2011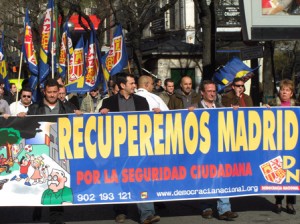 1- What proposing DN unlike the PP and PSOE for the municipality of Navasfrías?
DN proposals for the municipality of Navasfrías cover a wide range of measures to try out the state of depopulation which is.
At any time we propose miraculous formulas, It's something no one has, nor we make promises to the end as they usually do not fulfill other political parties. What if they can be sure Navasfrías neighbors is that we will try to do everything possible for the people to evolve, find and apply solutions that benefit all citizens of the municipality, to all, not only certain groups as they usually do other political formations and full transparency will be applied to each and every one of the efforts that we make.
2- What you will focus DN?
As I said before, we will focus mainly on the depopulation suffered by the municipality, also in boosting agriculture and livestock, which it is the mainstay of the town and what we intend to create jobs for its inhabitants.
3- Could you specify a little more this idea?
As it has become clear in the previous question, the village economy is based mainly on agriculture and livestock.
Starting from this, the means will be sought to develop a modern agricultural / livestock tissue, together with other peoples of the region if this were possible, count on the unconditional support of municipalities.
Administrations shall also be viable projects that generate jobs and wealth for the environment.
4- And in a matter of social measures?
Good, considering that there is a high percentage of older 65 años, It will be proposed to the competent authorities the construction of a residence and a day center for, arriving case, not have to travel to other towns to seek these services.
Apart from this, specific support will be created to boost the birth rate and counteract the aging population.
5- So much you care about depopulation?
Yes, of course. Unlike the PP and PSOE that does not seem to affect this problem, We are quite concerned about the passivity demonstrated by the various agencies in the depopulation of Castilla y León, mainly suffered by small municipalities.
Day after day we see how these municipalities are left without children, without youth, without major, totally deserted and all thanks to the neglect of our political representatives.
Municipal program.
OUR PEOPLE FIRST
DN, THE ALTERNATIVE TO Navasfrías
NATIONAL DEMOCRACY is a deeply democratic party that is too often reviled by the media because it is a real alternative to the PSOE and PP all corruption schemes. PP and PSOE are not able to provide real solutions to problems.
NATIONAL DEMOCRACY part of that fresh air than in other European countries begins to blow harder and harder to expel from their corrupt governments that have deceived his people, ruined his business and left jobless people, due to the implementation of policies that have encouraged illegal immigration, imports of products from China and other non-European countries and the voracity of banking that has generated a catastrophic crisis for all nations, mainly to Spain.
NATIONAL DEMOCRACY takes more than ten years committed to the defense of Spain and Spanish. Navasfrias winds of change,and with your support we know we can be the alternative to PP and PSOE. We are able to change, to leave without an absolute majority for the PP and the PSOE, Only parties that separates them and unites them stands their inability to government.
Now is the time to DN because we have alternatives for Navasfrias:
AUSTERITY: Clear accounting policy, with Navasfrias's neighbors they will know at all times the expenses and income of all kinds of events by the municipality.
Reducing unnecessary spending by members of the consistory.
A percentage reduction of salaries of the mayor and councilors, Also in the collection of full if exist.
SECURITY: Against crime and citizen insecurity: ZERO tolerance against theft and theft in our homes and against violence and destruction of street furniture in our streets.
ECONOMY: Creating a policy of attracting investors and attract companies, facilitating investment, getting involved in projects and applying for grants for rural development, so we can get to full employment in the locality.
Impact policy design and increased economic activity on the basis of cultural and natural heritage.
Review of payment of pasture for livestock, studying the feasibility of reducing per capita level.
PROJECTS: Specific actions to combat depopulation, as well as the design of an employment policy, living place, infrastructure and social policies that keep people young and attract some of those who were forced to leave.
Development program helps women to boost birth and counteract the aging population.
Review of social assistance to ensure that these are persons who really need.
Use of public buildings, rehabilitating them if necessary, for use by the people as a library, meeting rooms and exhibitions…etc, and to adapt as nursing, day center…etc.
Research from previous public office if there is any case of doubtful enrichment.
IDENTITY: Defense and protection of our identity and cultural as salmantinos, Spaniards and Spaniards against the impositions of separatism and the prevailing culturización. Only together can we face the future.
We are the alternative and we have solutions…in your hands this change.
José Bellanco, the man who dares to say what we all think but most silent, mayor of Navasfrias
FOR US, For our people….DN VOTE