La iniciativa del PSOE pretendía además de declarar El Rebollar como Parque Natural, la elaboración en el menor tiempo posible de un Plan de Ordenación de sus Recursos Naturales.
El PP ha rechazado en las Cortes de Castilla y León la iniciativa presentada por la Procuradora del PSOE por Salamanca, Ana Muñoz de la Peña, en nombre del Grupo Parlamentario Socialista, en la que se instaba a la Junta a elaborar en el menor tiempo posible el Plan de Ordenación de los Recursos Naturales de El Rebollar, y a su declaración como Parque Natural. La comarca, o subcomarca de El Rebollar, es un territorio agreste y remoto en los confines meridionales de la provincia de Salamanca, entre la frontera portuguesa y las Hurdes cacereñas. En su ámbito se incluyen, total o parcialmente, los términos municipales de Navasfrías, El Payo, Peñaparda, Villasrubias, Robleda, The Gonzalez, Martiago, Agallas, Casillas de Flores, Fuenteguinaldo y Herguijuela de Ciudad Rodrigo. El espacio natural abarca una superficie cercana a las 50.000 hectares, con una densidad de población baja, ya que en los 11 municipios apenas superan los 5.000 people. Desde 1991 El Rebollar está incluido en el plan indicativo de espacios naturales, que identificaba aquellas porciones del territorio que, por sus valores naturales, se habían hecho acreedoras de ser declaradas como Espacios Naturales Protegidos. However, más de 20 años después, esa declaración no ha podido llegar.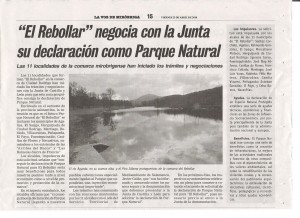 La mayoría de los representantes de los ayuntamientos de la comarca se han dirigido a la Consejería de Medio Ambiente para solicitar que se agilicen los trámites de esa declaración a la que se muestran favorables, con la idea clara que mantener y poner en valor el patrimonio natural de sus términos no solo es una prioridad y una obligación, sino que puede ser una de las pocas oportunidades que la coyuntura actual deje al sostenimiento social y demográfico del área. Esta petición ha ido acompañada por certificados plenarios de todos los Ayuntamientos integrantes de la Mancomunidad Alto Águeda; (Agallas, Atalaya La Encina, The Herguijuela of Ciudad Rodrigo, Martiago, Pastors, The Gonzalez, Serradilla del Llano, Zamarra) y otros afectados como Casillas de Flores, Fuenteguinaldo, Navasfrías, El Payo, Peñaparda, Robleda y Villasrubias.