Horsemen of Eljas, San Martin, Villamiel, Holly, Hoyos, Foios Us Navasfrias and participate this Saturday 20 July in the "Route of payo, by smuggling trails ", a route that runs through the places where smuggling was carried, and runs through Extremadura, Castile-Leon and Portugal.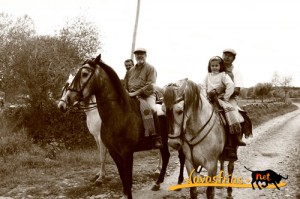 Es una ruta larga para caballistas experimentados, dado que el terreno no es muy bueno en los primeros tramos, aunque luego es mas llano. La ruta marcada va por la ruta del contrabando que se tomaba antaño.
Comienza a las 9 de la mañana, con dirección Eljas, despues continúa con los caballistas de Eljas por toda la sierra, entre piedras y barrocos donde justo pasa el caballo, y se llega al alto de Santa Clara donde se almuerza y llegan los caballistas de Villamiel, Acebo y Hoyos.
Continúa la ruta en dirección a Payos, y despues de comer, continúa en Navasfrias y desde allí a Us Soito, donde son recibidos por el alcalde y demás caballistas portugueses. Despues de cenar con la luna se dirigen con cánticos a San Blas, su patrón, hacia Valverde, toda la sierra hacia abajo, donde hay una altura considerable.
El límite de España y Portugal es el Alto del Pizarrón, donde los padres y abuelos ya respiraban, tomando las rutas del contrabando desde us Foios hasta Valverde.
Source: http://digitalextremadura.com