The Salamanca emigrant population is already worth Bejar, Alba de Tormes guijuelo and joints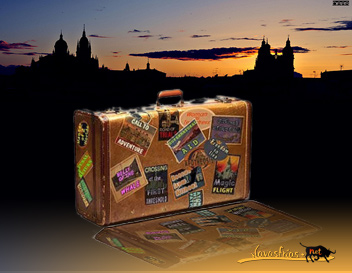 In 2010 amounted to almost 26.500 people, especially in Argentina, France and Germany. The peoples of the region of Rebollar have as many or more people abroad than registered in the municipality
The foreign resident population increased Salamanca 2010, to achieve 26.465 people, with information on the Register of Spaniards Abroad (PERE) a 1 January 2011, which is a similar increase than in the whole country, according to data released by the National Statistics Institute (INE). By gender, Women represent more than half of the population abroad. Of this total amount, 7.500 belong to the capital, 1.134 Ciudad Rodrigo, 1.085 Bejar and among other highlights El Payo, 625; Peñaparda, 622; Lagunilla, 409; Robleda, 367; Fuenteguinaldo, 329; Navasfrías, 324; Guijuelo, 238; Villasrrubia, 203; and La Alberca, 200.
As for the fate of these people, American continent has the greatest number of residents from Castilla y León; followed by Europe, with France and Germany leading; Oceania, highlighting Australia; and to a lesser extent Asia and Africa. The increase in population for 2009 occurred on all continents, although most occurred in Latin, with a rise of 13 percent; ahead of Asia, where it grew by 11,51 percent; Oceania, of about eight percent; en África, the 4,38, and the lowest in Europe, with the, 195 percent.
Specifically, salmantinos of living in America only five percent do in the United States. De facto, half of this population lives in Argentina, where almost eight thousand births are concentrated in the province charra, which also represents a quarter of all living outside Spain. In Europe it is noteworthy that in France are 8.000 Salamanca, compared to countries like Germany, where a closing 2010 had 1.500 born in Salamanca, and Switzerland, more than double those in the United Kingdom and Belgium.