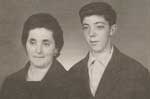 Manuel Ramos Andrade nació el 24 July 1944 in Navasfrías, pequeño pueblo de la provincia de Salamanca de setecientos noventa habitantes situado en los límites de Cáceres y Portugal. Very poor family, "We were the poorest of the people", spent his childhood in the village until the 14 he emigrated with his mother to the Basque Country. In 1964 se trasladan a un pueblecito de la zona de Lyon en donde trabaja en la industria textil, obtiene un título de formación profesional y aprende perfectamente el francés en tan sólo un año. The next year, now only, migrates back to Australia and Sydney -Melburne- and starts its business. Con sus primeros 3.000 dólares compra un pequeño almacén de trastos viejos y abre su primera tienda de antigüedades. En tan sólo cuatro años consigue abrir una pequeña cadena de tiendas. Ante la enfermedad de su madre decide venderlo todo y volver a Francia para hacerse cargo de ella.
In 1972 the decision to settle in Spain and comes to Barcelona where he buys a shop on the street Fernando. From this moment Ramos Andrade becomes a tireless traveler. Runs along most of the European countries buying and selling and especially getting information about the movements in the future will boom. La experiencia que le ha dado su trabajo en Australia y otros países europeos le hacen ver que el negocio de las antigüedades no se ha renovado en España. Así el 23 de septiembre de 1983 through a company Libonia S.L.. acquires the first floor, some 1.000 square meter, the building located at number 155-157 Paseo de Gracia, Antiques and creates the Boulevard of Barcelona, seventy-three stores. this center, the first in Spain that incorporates the concept diaphanous and luxurious antique shops, following the Louvre des Antiquaires style Paris, He created a precedent that was later imitated in other Spanish cities.
In 1990 Ramos Andrade decides to donate his important collection of Art Nouveau and Art Deco to the community of Salamanca. For it constitutes the foundation that bears his name. The Board is formed, among others, by the Rector of the University and the Mayor of Navasfrías. Salamanca City Council grants the use of a beautiful modernist palace to the Foundation and the Art Nouveau and Art Deco Museum Salamanca is created with funding from the Foundation.
Revenue generated by the exploitation of this museum is devoted to scholarships, aid to the elderly and to maintain Museum. As Ramos Andrade said: "My idea is to help my people not to disappear; to the kids, because they are the future, and the old, which they are like an open book of wisdom ".
Ramos Andrade highlighted in the professional field as an innovative entrepreneur who entered the Spanish market mechanisms antiques modernity that already existed in Europe. With the creation of the Center of Antiquaries advocates specialization and rigor in the selection of the pieces. The tireless work of all these years has earned him the respect of fellow guild, who they have not hesitated to use it for expertizar fairs and act as arbiter in some disputes.
He died one 23 July 1998.