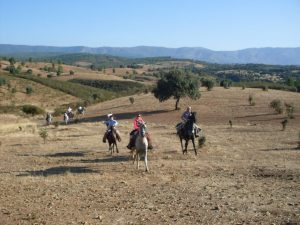 Asociación Amigos de Caballo "A Revolera"-Como es tradición por estas fechas la Asociación de Caballos de A Revolera de Valverde del Fresno, es invita por nuestros amigos de Penha García (Portugal), to spend two days on horseback, guardamos grandes amistades, que eran las que unían a sus padres con nuestros padres y ahora a nosotros sus hijos, following the bond he had with smuggling, that still maintain thanks to the meeting every year, to keep those bonds that unite us as antaño.-Saturday 12 de Septiembre, let's horse Penha Garcia (Portugal), a pasar dos días con nuestros amigos de Penha García, It is a horseback ride that lasts six hours to "Penha Garcia (Portugal)", despite the distance that separates it from Valverde, It is a locality friend, we do not miss any year, puesto que muchos de los que vamos a las rutas conocemos a gente que habían estado con nuestros padres y abuelos en el contrabando y mucha gente del pueblo está casada con gente de Penha Garcia.-
-Todos los años cuando llegamos somos recibidos por los caballistas de Penha Garcia y ahí empiezan a forjarse amistades de antaño y en la comida en la romería se acerca gente mayor a preguntar de quien somos hijos y conocían a nuestros padres y abuelos".
-The joy that gives us when we are asked by someone of the people and tell us your story and adventures that happened in the time of smuggling, siempre recuerdo cuando un Portugués me pregunta por Martín Kika y le respondí, que aquí estaban sus dos hijos, Clemente and David Kika, que le dieron buena cuenta de su padre". "Then he started to tell Mr. past stories with her father and invites us remembering the good friendships that Kika had left in Penha Garcia". Como el caso de Martín Kika el año pasado se produjeron tres situaciones más. "Es bonito que recuerden a tus familiares y siempre da gusto ir a Portugal".
-We will leave at eight o'clock from Valverde and made the first stop along the way for lunch near the border with Portugal. The reach of Penha Garcia marsh Riders, y algún caballo, se dan un chapuzón para refrescarse de la ruta antes de alcanzar la localidad.
Asociación Amigos de Caballo "A Revolera"
-En Penha García nos están esperando los caballistas Portugueses y todos juntos iniciamos el camino hacia la romería donde les esperan Cristino y Samuel, "Great Portuguese friends that for years we coordinate the route and the pilgrimage and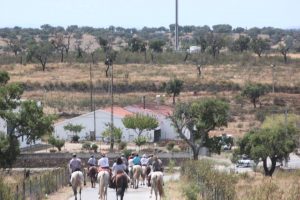 we always provide a place to leave the horses ".
-After lunch "a good bullfight –capea portugués– y para finalizar, una cena de caballistas Españoles y Portugueses, in the "U Boar" restaurant, a la que asistirá el presidente de la Cámara, tras la cena, baile y tras el baile una noche durmiendo al raso, solo con las mantas.
Regresaremos el Domingo a Valverde del Fresno "deseando que pase el año para regresar a Penha García (Portuga)".
-Ya han confirmado asistencia a Penha Garcia asociaciones y aficionados a los caballos acudirán el sábado a Valerde del Fresno, los de Eljas, San Martín de Trevejo, Villamiel, Holly , Cilleros, Foios y Soito.-
Jose Ignacio Donoso Martin, (Fabio)
President of the Association of Horses A Revolera.-
Asociación Amigos de Caballo "A Revolera"