First data on the rainfall these days.
Nuestro pueblo Navasfrías y El Maíllo han registrado las máximas de lluvia y de viento en España, respectively, in the last 24 hours. According to the Meteorological Agency, in Navasfrías, were collected at midnight Friday 27 October, 85,4 liters per square meter. En la localidad cacereña de Valverde del Fresno, que limita con Navasfrías, las precipitaciones fueron similares, with 85,2 liters per square meter.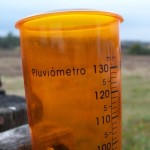 En El Maíllo, pueblo situado en la Sierra de Francia en Salamanca, se alcanzaron las mayores rachas de viento de España, ya que a las ocho menos diez de la tarde de ayer se registraron vientos de 90 kilómetros por hora, según la Agencia Estatal de Meteorología. Also, en el pueblo salmantino de El Bodón, las rachas de viento registradas por al Agencia Estatal han sido de 73 kilómetros por hora.
Debido al viento y lluvia que ha afectado a la provincia de Salamanca, en el municipio de Ciudad Rodrigo se ha derrumbado alguna fachada, el agua ha obligado a cortar la circulación de algunas calles y un matrimonio de ancianos ha sido rescatado de su vivienda, ante el peligro de que se viniera abajo la techumbre.
Source: http://www.abc.es/