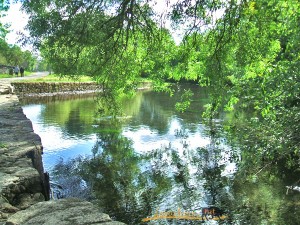 En abril, waters thousand. And this time the saying has more than fulfilled. The past was a 'very wet' month in Castile and Leon, While much of the Community precipitation was between 150 and 200 percent higher than expected, con puntos incluso —especialmente en el extremo norte— en los que se superó esa cota, según los datos recogidos por la Agencia Estatal de Meteorología (Aemet). Una buena noticia para campos y embalses, que esperaban las lluvias con impaciencia, pero que, aunque han contribuido a «paliar» en parte el «déficit» hídrico arrastrado desde que comenzó el año hidrológico (septiembre) son insuficientes para hablar de una suma de precipitaciones normal a estas alturas del año.
De facto, en la mayor parte de la Comunidad, el porcentaje de agua caída desde septiembre se queda por debajo de lo habitual.
En su conjunto,los pantanos de la comunidad no llegan al 60 por ciento de su capacidad y eso que en abril han ido ganando agua. Las precipitaciones de la última semana y el deshielo de la nieve de las montañas han aportado 94,6 hectómetros cúbicos en siete días. En el último mes han ganado 8,1 puntos de volumen de líquido embalsado, lo que se traduce en 222,2 hectómetros cúbicos más disponibles en sus vasos.
Abril fue muy húmedo en Ávila, Burgos, Segovia, Soria, Valladolid y Zamora.
Después de meses en los que los pluviómetros no acumulaban más que polvo y unas décimas, el pasado mes dejó registros como los 30,4 litros por metro cuadrado de Navasfrías (Salamanca) the 1 de abril.
Para los próximos días no habrá que guardar mucho los paraguas, pues las previsiones apuntan a más lluvias por un sistema frontal que entrará el miércoles y dejará lluvias, sobre todo en la mitad norte. A partir del jueves, el tiempo se estabiliza y las temperaturas suben, propiciando un tiempo más acorde a esta época del año. Y es que, además de «muy húmedo» en Castilla y León, abril también fue «frío» con temperaturas entre uno y dos grados por debajo de la media para esta época del año, sobre todo por las máximas, más bajas de lo habitual. Incluso ha habido puntos en los que el mercurio cayó hasta cinco grados respecto a los valores habituales. Las medias se situaron entre 6 and 10 degrees.