The river Agueda, border between Spain and Portugal along 40 kilometers, analysis serves researchers from Castilla y León and the Portuguese country to assess the environmental risks of transboundary basins, to achieve management of the same in which "there are no national boundaries".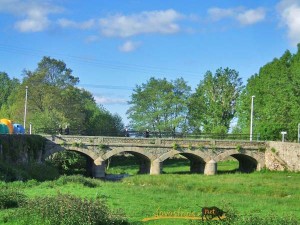 Este Proyecto de Cooperación Transfronteriza España-Portugal (Poctep), conocido también como Proyecto Águeda, supone una iniciativa piloto promovida por la Comisión Europea, que lo cofinancia en un 75 por ciento a través de los fondos Feder.
Por su parte, the 25 por ciento restante de un presupuesto de cerca de 512.000 euros, lo aportan los organismos participantes, el Instituto de Recursos Naturales y Agrobiología de Salamanca (Irnasa), vinculado al Consejo Superior de Investigaciones Científicas (Cesic); el Instituto Politécnico de Castelo Branco (Portugal), y la Universidad Europea Miguel de Cervantes (UEMC) de Valladolid, a la sazón coordinadora del proyecto.
El proyecto analiza, por tanto, los 176 kilómetros de longitud de este río que nace en el municipio salmantino de Navasfrías y vierte sus aguas al Duero en la localidad portuguesa de Barca d'Alva tras hacer frontera durante 40 kilómetros entre la provincia española de Salamanca y la lusa de Guarda.
Las peculiaridades de este tipo de cuencas hace que "cualquier vertido en España afecte a Portugal" y viceversa, según ha explicado a Europa Press uno de los participantes en el proyecto, el profesor Roberto Martínez-Alegría de la UEMC.