Hiking Navasfrías the source of the river Coa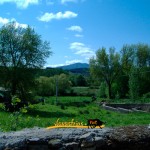 The first leg of our hiking trail passes through meadows attended by farmers, where cows graze all kinds of race, of course most with a particular genetic, obtained based on crosses and more crosses. There are also rows of well-aligned beehives on the sunny side., They show that we walk through an environment where there fortunately human activity.
Crossing a doorkeeper, begins the communal area, where cows have to move many hectares selecting pastures or ramoneando.El regato coming down from the hillside, It takes very little water, as little as last year. Which also note the effect of late rains is the explosion of ferns, impressive size, its intense green with sun rays in the fog, They are very beautiful pictures, beautiful carpet beneath an oak forest, respected by fire.
We reached the other hiking trail Contraband route, which runs the Raya, As Torris continuing towards Hernán Centeno and the Sierra de Gata. The track, the fight sun with fog, south and blue sky shows July, Instead north fog hides everything in its path. Which they reveal the butterflies, of all the colors, flitting among the flowers Blackberries, on the lace webs they have been formed with fine droplets of mist .
Portugal entered a doorkeeper, free of tolls and controls. We took a paved road, perhaps the result of some urban waste, because it is not understood that in a natural setting such infrastructure is built, no paste or glue. We headed south, in search of the birth of Coa. We are surprised now the landscape, the background the Sierra de las Mesas, moles cover granite, treeless, piornos still lined with flower, gorse bush and some other. A landscape in stark contrast to what had brought hitherto.
A path that no loss, nevertheless riddled Hikers landmarks, It leads to a source hillside, where a small trickle of water takes the first steps of the river Coa. As usually it happens very often, human intervention has been botched. What hobby have not particularly respect the birth of rivers, let the water emerges free source of pipes and other fixtures horteras. Not a very grateful space, moles granite tables reconverted, banks, llares.
The minimum flow Coa, visible only lasts a few meters, disappearing as Ojos del Guadiana. Would not see road already Foios. Down the slope, I think of these two tributaries of the Duero, Coa and Agueda, one Portuguese and one Spanish born so close and back each other, drawing the two, capricious courses before reaching the Duero.
Once left Foios, Coa It heads south, bordering the Sierra de Malcata, reaching Sabugal, which turns 90 heading north. There has already been a visible flow, It is a mountain river of clear water and singsong, especially passing through Castelo Mendo. With everything and that's not so great Coa, for the huge bridge- viaduct have made to cross the A-25. From there its course draws a fairly straight line running is to Vila Nova Foz Coa, where calm waters lower by a wide valley slopes of terraces where vines are cultivated, almendros, olives, a space of great beauty. It is not surprising that already in the Paleolithic, our ancestors be inspired to numerous engravings of animals on the rocks of the valley.
Parallel to the river, a road less traveled, but overlooking a landscape that still showed numerous flowering plants, Foios reach, a Portuguese village, white houses and red roofs and new, just some old houses. We recall poverty of these lands in the past, bear a certain resemblance to the constructions of Hurdes. Today is a holiday town, to welcome their countrymen returning on holiday and definitely, investing their savings to build huge houses, many of them clearly Frenchified. ancient chestnut trees, other newly planted, Chestnut generates activity on these lands more like Galicia than the nearby Portuguese Estremadura.
We return along the road until we reach the track that crosses the forest of Navasfrías, would lead to the exit point. Some 20 km, good company tours, between a fog of the month of July, with very gratifying sensations. We ended up eating the sandwiches in Bardal, charming recreational area, like the guys who were attending the bar, like seeing so many tents, mounted, of young people from Córdoba, Albacete, to enjoy our treasures. Life things, and think that a large majority of the locals do not know the beauty of this route.