Navasfrías Bike Xtrem
Nuestro pueblo Navasfrías It joins The testing IV Circuito provincial BTT.
A few days ago the Diputación de Salamanca presented the testing schedule.
And total, will be 23 tests (5 less than last year), of which 11 will take place in the region mirobrigense (2 more than 2018).
Among all states involved, there is one that repeats in the list, Saelices el Chico, host that both opening and closing the circuit. On the one hand, the 14 April will be held the V Ruta BTT Saelices el Chico (of 50 kilometers of distance); and on the other hand 8 December will live the V Ruta del Pavo of the town (of 30 kilometers).
Together with our people as debutants two other towns in the region mirobrigense also encuetran: the 20 de abril will be the first Rockbledana, organized by the City of Robleda (of 60 kilometers); the 2 de junio will develop the I Carrera BTT Gallegos de Argañán (promoted by the Consistory); and 11 de agosto la Extreme Bike Navasfrías (of 55 kilometers), also organized by the City Council.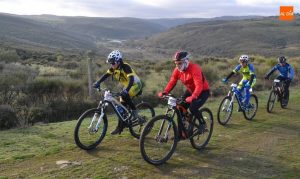 Among these quotations from Gallegos de Argañán and Navasfrías, there will be other 4 tests in the region: for him 15 de junio It is scheduled the 3rd edition of Bibici organized by the BTT Group Pedal Ciudad Rodrigo; for him 14 de julio, March 2nd BTT Juanma Garate of Fuenteguinaldo; for him 21 de julio, the Xálima Trail Running MTB El Payo (organized by the City Council and an independent committee); and for him 4 de agosto, They expected the test port City Council The Gonzalez.
Following the appointment of Navasfrías, the 17 de agosto It will test the oldest of all: la Cicloturista march of Sancti Spiritus, which this year will celebrate its 19th edition. Later, the 29 September Fuentes de Oñoro desarrollará la II cross-border mountain bike, closing the calendar with the aforementioned appointment December in Saelices el Chico.
Source:https://salamancartvaldia.es
Desde navasfrias.net we encourage you to participate and if you is not possible to come and encourage participants.