PROJECT LIFE CIPRIBER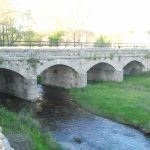 Five fish ramps made within the project LIFE CIPRIBER in Uces and rivers Yeltes, in the province of Salamanca, They have been recently visited by an auditor of the European initiative, in order to meet field functionality and design to facilitate movement of Iberian cyprinids along watercourses, thus circumvent the passage through weirs and small dams.
Specifically, the auditor, accompanied by technicians of the basin organization and other administrations present in the project, he moved to the dam of Pontones, Villares de Yeltes, and the hamlet of El Rubio, in the municipality of Yecla de Yeltes.
On the bed of the river Uces, the field work included a tour of the so-called Mata del Tacón mill, It is belonging to La Zarza de Pumareda; Mill Puerto Carros, Cabeza del Caballo, and setting the Aceña, Also located in Yecla de Yeltes. These actions contribute to the recovery of populations of endemic species of cyprinids Iberian rivers in Salamanca.
The project, led by the Hydrographic Confederation of Duero, agency of the Ministry of Agriculture and Fisheries, Alimentación y Medio Ambiente (MAPS), with the participation of the Junta de Castilla y León, the Natural Heritage Foundation and the Tagus River Basin, commitment to conservation and restoration of river habitats, por un lado, and development of an innovative protocol breeding, for another.
Avoid isolation
In the first phase, They have been constructed in three ramps Agueda River -in the term Navasfrías-; three Uces two in the horse's head and one in La Zarza de Pumareda-; four on the Huebra -a height of Pozos de Hinojo, Moronta, Barbalos and Berrocal de Huebra-, and ten in the Yeltes: seven on the end of Villares, two Yecla and Puebla.
The performances have been developed in traditional weirs and dams for various uses, such as irrigation, livestock watering, catering, recreational industrial, where a ramp fish keeps use while the natural sequence of a channel is imitated to facilitate lift species.
The disappearance of the effect of isolation that these barriers produce, dividing the river into segments, fish can move freely to adapt to changes in environmental conditions in search of more favorable habitats or biological needs as reproduction.
Also, These works improve the status of these surface masses fulfilling the obligations under the Water Framework Directive. Within the second phase of action, It is planned to undertake new initiatives in Salamanca channels, that benefit species like the loach, Sardinian, calandino, boga the bermejuela, with specimens coming from Ictiogénico Center Galisancho, Located on the banks of the Tormes downstream of the dam of Santa Teresa.
Source http://salamancartvaldia.es
Be informed Navasfrias.net