EUROPEAN GREEN WEEK Navasfrías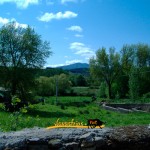 Nature and Man Foundation, responsible for the Biological Reserve Campanula de Azaba, It will be added next week to the European Green Week promoted by the European Union with operations in several towns in the region mirobrigense, within the framework of the LIFE project Farm Club West Iberian.
According to point from the Nature and Man Foundation, the aim of the activities is that "citizens become involved in a more healthy and convenient environment for working and living".
The Foundation believes that "if we show that it is possible to live in an environment with less noise, better air quality, with more nature and biodiversity around us we achieve not only the authorities involved in their care, but encourage citizens and residents of rural areas to work in line for a more sustainable future for all ".
Foundation activities in the region will begin on Wednesday 23 Fuentes de Oñoro, a natural deodorant workshop. Thursday 24, Aldea del Obispo and Villar de Ciervo insect host two workshops, Meanwhile he viernes 25 Navasfrías and El Payo will host a workshop on pollinators / insects. To close, the same Friday 25 The Sahugo will house the 17.00 hour workshop thermal bags.
Source: http://salamancartvaldia.es
Desde Navasfrias.net encourage you to participate in these activities.