Jalama XIII EDITION RISE BELEN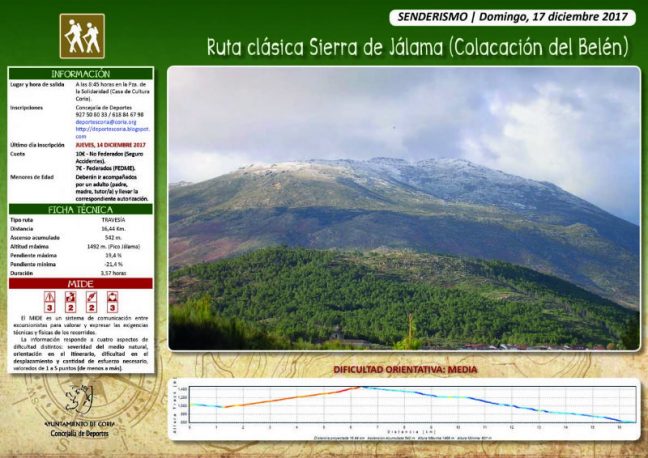 A year and as it has become tradition for these holidays, organized by the Department of Sports Coria City Council, along with the Sports Association of Mountain 'Xálima' Moraleja, next Sunday 17 December the XIII edition of the hiking route will be held 'Belén rise to Jálama'.
It is scheduled to participate in this Christmas route around 200 walkers from Coria, Moraleja, Valverde del Fresno and other parts of the region and Sierra de Gata.
Walkers will have their point of departure by bus Casa de la Cultura de Coria a las 9:00 de la mañana y se juntarán con los demás grupos de la ruta en el merendero del puerto Santa Clara, located at the Crossing Navasfrías, where the start of the route will take place at 10 in the morning the track toward the refrigerator located about 100 m to the summit of Jálama, the highest peak of Sierra de Gata, where it is expected that participants in the route have their arrival on 12 del mediodía.
Once at the summit of Jálama, the traditional nativity scene where walkers will celebrate with the typical Christmas carols accompanied by sweets will be installed, brandy and champagne, subsequently passing the hermitage of San Casiano reborn from its ashes.
Winery tour
Later there will be the descent on the opposite side of Jálama towards the serregatina emblematic town of San Martin de Trevejo, which he is due to arrive on two p.m..
In this paradise of Sierra de Gata genuine construction, walkers will visit some of the wineries in the area where they will be presented with the traditional "Pichorr", In addition to turning tour through the streets of this charming Sierra de Gata, thus concluding the route and subsequent return of walkers to their respective starting points.
Source http://www.hoy.es
We take this opportunity to wish you happy holidays and a good entry and exit of year.