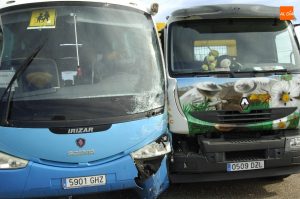 CROSSING ACCIDENT Bodon
The dreaded crossing the Bodón recorded at lunchtime on Friday a new accident, which, Fortunately, alone he left an injured person, and mild character.
The protagonists vehicles were busing a bus and a truck, as you can be seen in the images, ended 'they glued' in full roadway.
According to information collected, The accident occurred when the bus, which was traveling between Ciudad Rodrigo and El Payo- He did not make the stop that should make all who come to this crossing from the town of El Bodón correctly (by which just happened). Concretamente, the bus driver did not appreciate that he wanted to cross the road (CL-526) He is circulating a truck coming towards Ciudad Rodrigo.
According to the testimony Trucker self compiled by Ciudad Rodrigo Al Día, to see that the bus was invading the track, He tried to avoid him, but it was not quite possible, reaching and being laterally impacting the two vehicles stopped in the middle of the CL-526.
Fortunately, the impact was not too strong, and only he wounded, mild, Trucker passenger.
All occupants of the bus, including the driver, They were unhurt.
The passengers, especially children and youth returning from class schools in Ciudad Rodrigo, They were collected at the scene by another bus from the same company, NOT A WORD. Martin, to bring them to their villages.
We recall that this crossing is quite controversial and Care should be taken to cross, Fortunately it has been all in a fright.
Source: https://salamancartvaldia.es/not/221499/camion-impacta-autobus-transporte-escolar-no-realizo-stop/