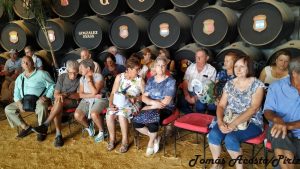 RETIRED Navasfrías VISITED CADIZ
Nuestros mayores se van de excursión. Jubilados de Navasfrías y El Payo para aprovechar los últimos días del mes de septiembre se han ido de excursión al sur, specifically the province of Cádiz.
Among the sites that have visited the capital are, Jerez de la Frontera, Sierra de Grazalema, the 'white villages', Arcos, Vejer or Rota, where you will find the hotel in which they stayed.
How visits highlights bodegas Gonzalez Byas (where they enjoyed an exhibition of Jerez horse), the views of the entire environment of Cadiz from the Torre Tavira, one he Leather Museum of Ubrique. As a guide they have had Menchu, a Jerez Cantabrian ancestry.
From navasfrías.net we are glad that there are such excursions for our seniors enjoy their free time.
If you want to see more photos click on the link salamancartvaldia.
Source Slmnchartwldia