FESTIVITIES CELEBRATES ELJAS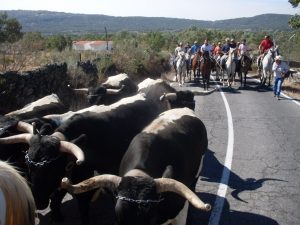 Eljas celebrates its festivities as every August, and our friends A Revolera We have made reaching an invitation to anyone wishing to join the celebration day 3 de agosto.
In the morning the traditional confinement will be held on horseback and later heifers are released.
For anyone wishing to take part along with his horse, It has stayed at the inn at El Quijote 09:30 hours, to go towards the farm where the closure part, there waiting for us all riders in the area and the horsemen of Eljas, for lunch, after catching forces, out with the cattle toward the square Eljas.
Once finished closure and after some cows torear, la Horse Association San Blas de Eljas They invite us to eat them all in brotherhood and have a good day in the company of friends in the world of horse Sierra de Gata.
Desde navasfrias.net we encourage them to be part of this celebration
We take this opportunity to greet our friend Fabio, which makes us get all such notifications.
Known Eljas
Regards